COMPANY PROFILE
For over 30 years, Eversafe Rubber has built a sterling track record and reputation as an industry leader for delivering the highest quality solutions and products for the tyre retreading industry.
With each step in our journey, we have continued to earn the trust, recognition and satisfaction of customers worldwide. And through this journey, we are honoured and proud to have establishing ourselves not just as a leading brand name, but as a preferred business partner for unsurpassed quality and customer satisfaction.
Our accelerated growth from local player to international business that generates more than 50% of its sales from exports is testament to the proven quality of our products and services. But it says more. It also speaks volumes of our total solutions model which encompasses cutting-edge technology, ground-breaking R & D, world-class production processes and our personalised human touch through excellent customer service and professional consultation.
From product sales to knowledge transfer, after sales and maintenance services, we are fully capable to support you every step of the way.
What Sets Us Apart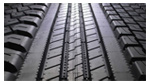 Unlike others, we have placed business partners and customers at our operational core to deliver the highest levels of satisfaction and profitability. We are continuously thinking a step ahead of how best to achieve sustainability; that is the long-term success of our customers. In essence, we journey with you.
Every care and attention is paid to ensure that the finest quality is maintained throughout the supply chain and business process. This begins from the sourcing of raw materials to production processes and delivery; as well as emphasis and commitment to the most stringent quality control measures in our industry.
We also bring to you the invaluable advantage of vast real-world experience and knowledge, a professional team of many of the industry's best individuals and a proven system that together; allows us to go above and beyond to meet and exceed business requirements.
Ultimately, we present to you a complete proposition for sustainable success that lets you optimise profitability, performance and customer satisfaction including long term success.

Olympic Retreads is the subsidiary of Eversafe Rubber.
Olympic Retreads has more than 40 years of experience in the industry, the company is actively and aggressively seeking ways to improve its products quality and achieve high customer satisfaction.
With its market areas reaching into many states in the northern region of Malaysia such as Perlis, Kedah, Penang, Perak and Kelantan, Olympic Retreads has gained good reputation for its fast delivery, reliable products and good post-sales services.